Don't miss this opportunity to get down to the sounds of one of the true legends of house music in the intimate environment that is Cobra. The last time Frankie was here he threw down to a packed house at the Mod Club and the party went till the wee hours of the morning. This evening will be for the true fans who want to party with 300 other people to the wonderful sounds of Mr. Frankie Knuckles!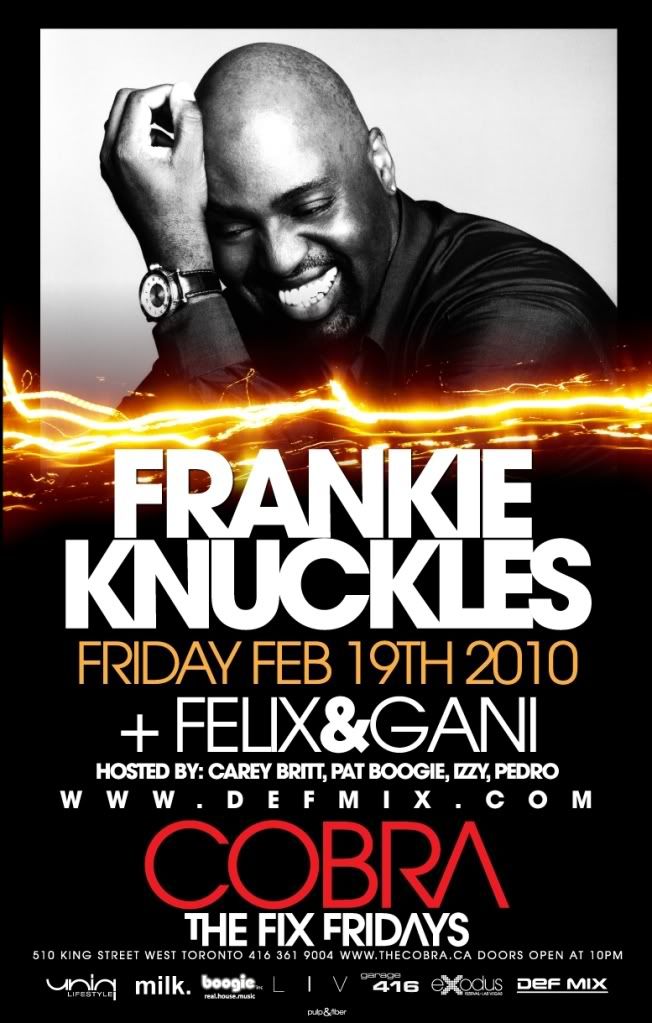 GUEST LIST If you would like to be added to the Garage 416 "reduced cover until 12:30am" guest list, please do the following:
1) Send first & last names of your group to: garage416@hotstepper.com
2) Make subject of your email: "GUEST LIST - FRANKIE KNUCKLES"
3) List names one on top of the other with no commas, no "and's" etc...
BOTTLE SERVICE The same rules as above apply for requesting bottle service. Just make the subject heading of your email: "BOTTLE SERVICE - FRANKIE KNUCKLES"
I will respond to you asap with a confirmation and give you all the info you need about bottle minimums, comps for guests based on the number of bottles purchased in advance, prices etc...
TICKETS Purchase $20 advanced tickets for priority entry @ http://www.milkaudio.com/web/store_main.php