Joe Claussell DJ, producer, and founder of the New York record label Spiritual Life Music and Sacred Rhythm Music returns to Toronto!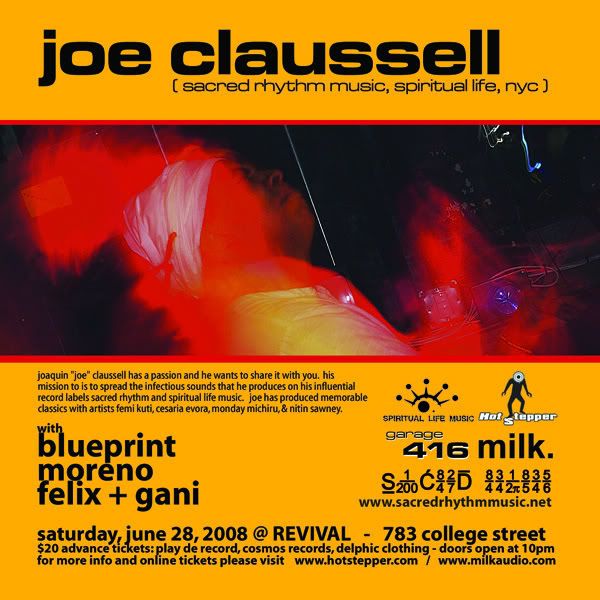 Joe's approach to club music has impacted producers and clubs throughout world. Currently popular in progressive minded club music production is the fusion of world music with dance beats. Notably responsible for this new approach is Joe Claussell. With production and remixes for the likes of Cesaria Evora, Femi Kuti, Monday Michiru, Jephte Guillaume, Nitin Sawney, Herbie Hancock, and Cassandra Wilson, his sound has imbued dance music with a more organic, ethnic feel, taking African and Latin influences on board and meshing them with elements of the Garage tradition and the true feeling of classic and contemporary house music.
Joe is currently the resident DJ at his own New York party "Sacred Rhythm", he heads up his own label "Spiritual Life Music", and was the co-resident at the legendary club event "Body & SOUL" with Danny Krivit and Francois K.

Joe dares to produce and create music few have the courage to do; music created for, by and about the soul. Explore this experimentation, in which the historical, physical, and spiritual elements guide us to a new level of awareness. It's difficult to label Joe's music as house, dance music or anything else. It's just good music. Listen ...you may be surprised at how familiar this sound is, the sound of life.
Joe will be delivering pure soulful bliss to the dance-floor revelers! His track selection is impeccable and his EQing is unrivalled.
"My goal is to expose the role that music really plays in our lives." - Joe Claussell
Check out the photos of Claussell's Nov. 24th 2007 appearance.
Check out the photos of Claussell's Dec. 1st 2006 appearance.
Check out the photos of Claussell's July 7th 2006 appearance.