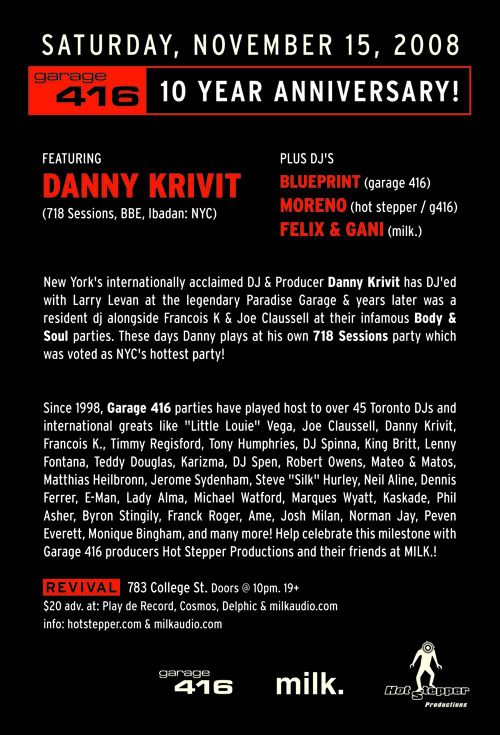 Check out the photos from our last parties with Danny Krivit:
Check out these kickin' tracks:
A great interview with Danny Krivit (worth checking out, it's a mini history lesson)
---
Biography:
Growing up in Greenwich Village, New York City, in the 1960s, Danny was surrounded by music. His mother was an accomplished jazz singer and his father was the manager of legendary jazz trumpeter Chet Baker before going on to open up "The Ninth Circle", a Village hot spot, where Danny worked as a boy. It was here that Danny met some of the most influential people in the music scene; Janis Joplin, Jimi Hendrix, Charlie Mingus, John Lennon & Yoko Ono, amongst others. His home was also a hotbed of musical inspiration, with The Mothers of Invention living down the hall, and Sid Bernstein (Manager of The Rascals) living upstairs, the rascals would regularly pop down to the Krivit household to practice their future hits on the piano. At school, a close friend and classmate was the son of Creed Taylor, the production genius behind many artists who recorded on the VERVE, C.T.I. & KUDA labels, and another close friend was the legendary soul guru Nile Rogers.
By 1970, Danny was already a vinyl junkie & an amateur DJ, But DJ'ing as a profession wasn't fully realized until 1971, after another neighbor/friend of Danny's (Vice President of Polydor Records) introduced Danny to one of his artists - none other than the legendary James Brown, who gave Danny white-label promo copies of his "Get on the Good foot" and "Think" by Lynn Collins. Soon after, Danny started Djing for "The Ninth Circle" which by now had been transformed into a disco. In 1975, Danny's father opened his second club called "Ones"; Danny was their sole DJ through 1977. Danny's sets were a big success and from this he started promoting and Djing at his own after-hours club down the street. At this stage, Danny was becoming part of the underground scene, club-hopped a lot, meeting some of the greatest DJ names of the time. These included Nicky Siano (of the Gallery), Walter Gibbons (of Galaxy 21), Tee Scott (of Better Days), David Rodriguez (of The Limelight), Richie Kaczar (Club Hollywood), and Bobby DJ (of Le Jardin) amongst others. Although all outstanding names, one DJ and club stood out amongst the rest: DJ David Mancuso and The Loft.
The Loft (A musical center and Mecca for DJs) was a unique place and home of the original DJ "Record Pool". This is where Danny began his long time friendships with DJs Larry Levan and Francois Kevorkian (Francois K). In 1977 when Danny started Djing at "Trude Hellers", he also had become an avid roller skater, and with his girlfriend (Daphne Rubin Vega) would regularly skate over to the Paradise Garage, where Larry would let them skate around the club while he would check out some of the new records that week on the sound system. The Garage remained Danny's main stomping ground until it closed in 1987.
Danny's list of DJ residencies steadily grew throughout the 70s and in 1979, after Djing at the opening of the Roxy; he became their resident DJ for the next 4 years. In the early 80s the Roxy was the home of some of the best Hip hop DJs of the day like "D.S.T", Grand master Flash, and Africa Bambaata. Since Danny was one of the few white boys who could scratch mix, he became known as Danny Rock. Throughout the 80s his list of clubs he played at exploded & very often playing 6 & 7 nights a week, which included places like, Area, Dancateria, The Ice Palace, Laces, The Limelite, Red Zone, Save The Robots, Studio 54(Virgin Islands), Tracks, The Tunnel, The World, and many, many others. Even a guest spot at the legendary Paradise Garage.
Since the late 70s trade magazines such as Billboard (which he still reports to weekly), Cash Box, Record World, & Dance Music Report amongst others, have listed Danny's play lists and Danny's mix tapes have been getting airplay on radio station WBLS, WKTU, & KISS FM.
The 80s' saw the beginning of Danny's studio work. He worked on tracks featuring legends such as, James Brown on "Soul Power", "The Funky Drummer", "Give it up and Turn it loose", Ecstasy, Passion & Pain on "Touch and Go", Brenda and the Tabulations "Let's Go All the Way", Gloria Gaynor on "Casanova Brown", and what is probably THE quintessential version of MFSB's classic "Love Is The Message".
Moving into the 90s, Danny commanded legendary status amongst young and old as well as continuing to forge new paths in dance music into the millennium. He inherited the Ninth Circle from his father and continued to DJ at clubs such as Mars, Tracks, The Choice, Palladium, Shelter, Sound Factory Bar, Twilo, The Warehouse, & The Loft.
At it's inception in 1996, Danny joined the Body and Soul team, Francois K and Joe Claussell, at club Vinyl and regularly played every Sunday for it's entire run, while also regularly Djing in various clubs in New York & Japan & everywhere in-between, Body & Soul has been enjoying special events in Brazil, Portugal & Italy, & sensational annual events in Japan, & occasionally back in NYC where July 2006 celebrated it's 10th anniversary. While B&S is still seeking a home for it's weekly event, for the past 4 years, Danny has been enjoying a similar success on his own, as resident DJ of the award winning "Best Party In NYC", "THE 718 SESSIONS" @ club Deep in Manhattan, where he's not just the DJ, but in charge of every creative aspect of the party, from it's lighting to it's graphic designing of the flyers & merchandise. And in-between this & traveling, he also holds down a barrage of guest spots @ places like; APT, Cielo, Deep (LA), Devotion (San Francisco), Love, Pacha, Roxy, Shelter, Stereo (Montreal), Sole, Spirit, Table 50, & Warehouse....

Djing 35 years has given Danny many highlights. Just to name a few: In 1999 Djing for a 15,000 strong crowd for the first of three annual Body and Soul "Summer Stage" events in NYC's Central Park. Also with Body & Soul DJing for a special sell-out 2-day event annually for the past 5 years in. Also in Japan, New Year's Eve 2001 he played for a one night indoor event with an attendance of 21,000 people. & Back in NY, summer of 2003 playing for an incredible 7,000 of his own fans at Museum Of Modern Art's PS1. & again in Japan, December 2005 @ club Ageha, also playing for an incredible 7,000 of his own fans.
Danny's talents and reputation have grown immensely and continues to do so, with demand for his DJing & editing work reaching new heights & exploding worldwide from North & South America to Europe & Japan, with his Producer/Editor/Mixer credits included on well over 200 records. Earning a status of "King Of The Re-edit" since the early 80's, he's been a major force in bringing attention & world acceptance to the art of editing, even spawning an onslaught of imitators. He's also a VJ, with a collection of well over 5000 rare soul performances on video from the 60s, 70s, 80's, & 90's. His vinyl record collection is now well over 70,000. Historical film & literature such as: "Maestro", "Love Saves The Day", "Last Night A DJ Saved My Life", & Mel Cheren's "My Life & The Paradise Garage" all include Danny Krivit as one of the key players in the history of NY night life & Most definitely one of the very few people who can honestly say he's consistently DJ'd in all the hottest clubs in NY for the past 35 years!